Michelle Benzinger
Sr. Miriam James Heidland
Heather Khym
Abiding Together is a weekly podcast hosted by Michelle Benzinger, Sr. Miriam James Heidland, and Heather Khym, providing a place of connection, rest and encouragement for people who are on the journey of living out their passion and purpose in Jesus Christ.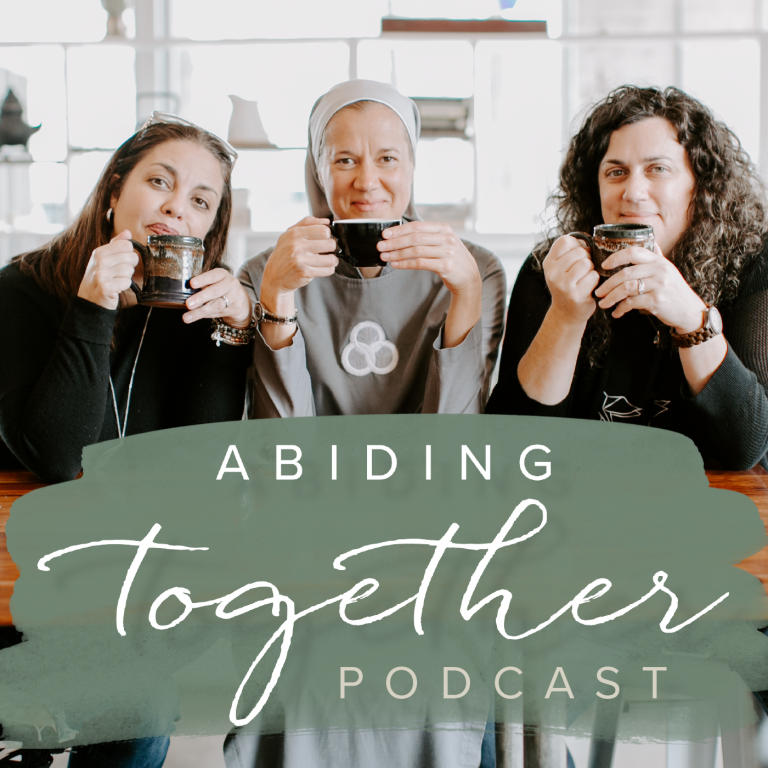 Abiding Together
Providing a place of connection, rest and encouragement for women who are on the journey of living out their passion and purpose in Jesus Christ.
S09 E09: This Present Paradise Part 2: Abiding in Family
In this episode, we continue our six-part Lenten series on the book "This Present Paradise" by Claire Dwyer. We discuss the complementarity of vocations to marriage and religious life and our universal vocation to love. We talk about St. Elizabeth's relationship with the Virgin Mary and the beauty of entrusting ourselves to her in times of waiting or suffering. We also chat about sacred spaces where God makes His presence known to us sacramentally, in nature, in one another and even in the mundane of our everyday lives. We pray this Lent has been a blessing to you and we will continue our discussion next week!
Heather's one thing – Fr. Mike Schmitz and the success of The Bible in a Year Podcast
Michelle's one thing – This Close – Steffany Gretzinger on youtube or Spotify
Sister Miriam's one thing – Worshipping the Lord and taking time with music – Check out Sister Miriam's daily mix playlist
Discussion questions:    
What struck you from this week's episode?
How has God used your own vocation or others' vocations to reveal to you the vocation to love?
How is God inviting you to give and receive love in your particular vocation or stage of life this Lent?
What are some ways God has made his presence known to you this week? How can you acknowledge God's presence in the ordinary situations of your life?
Journal Questions:
How can you entrust your times of waiting and suffering to Mary? When you reflect on her life, how can she teach you about this?
In this time that many of us have been away from the Eucharist due to restrictions, how has your Eucharistic love grown or changed? How has God revealed himself to you in nature, beauty, or otherwise come to you where you are?
Take some time to reflect on what a Sacred space could look like  in your home or room. What are some visual reminders that could draw your attention to God's presence with you throughout your day? Is this something you can create?
Quote to Ponder:  "The Word of God is the one who gives this command, who expresses this will. Abide in me, not for a few moments, a few hours that pass by, but abide in me in a permanent and habitual way. Abide in me: pray in me, adore in me, love in me, suffer in me, work and act in me. Abide in me in your dealings with anyone and anything, always entering ever more deeply in me."  – St. Elizabeth of the Trinity
Scripture for Lectio Divina: "Abide in me" – John 15:4
Abiding Together Podcast 2021 Lenten Book Study Announcement: The Abiding Together Podcast is reading and discussing This Present Paradise by Claire Dwyer for Lent. You can find the reading plan, discussion questions and where to buy your book at www.abidingtogetherpodcast.com/this-present-paradise.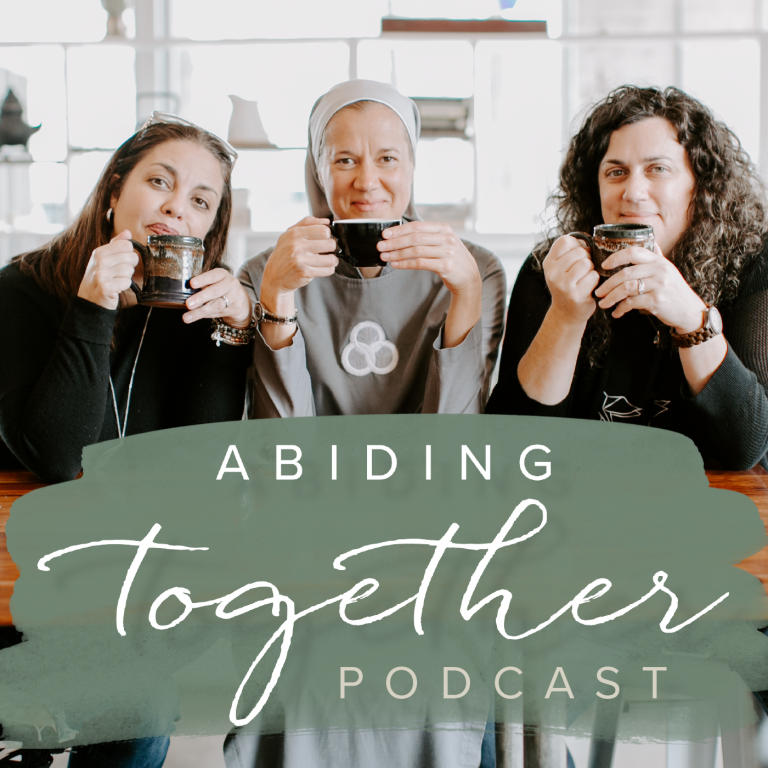 Search Results placeholder